MLM software becomes a need for every direct selling business to continuing the business without any interruptions. An MLM software helps in a calculation, payment processing, back-office support, etc. that reduce the manual workload and providing high accuracy. In the MLM industry, there are many software development companies that are providing MLM software. Most of the MLM software is having the same features in their first look but when we get the difference between them we know that what is the better one for own business. Every business has its own needs and only one software cannot appropriate for each one business. It means the different business needs different software. Every MLM software has many features and whatever your need you can choose that features apart from a secure MLM software. There are many companies who claim that they have remarkable features in their software but that maybe not the best one for your MLM business. All you need is a secure MLM software that helps in automation of manual jobs in the network marketing business.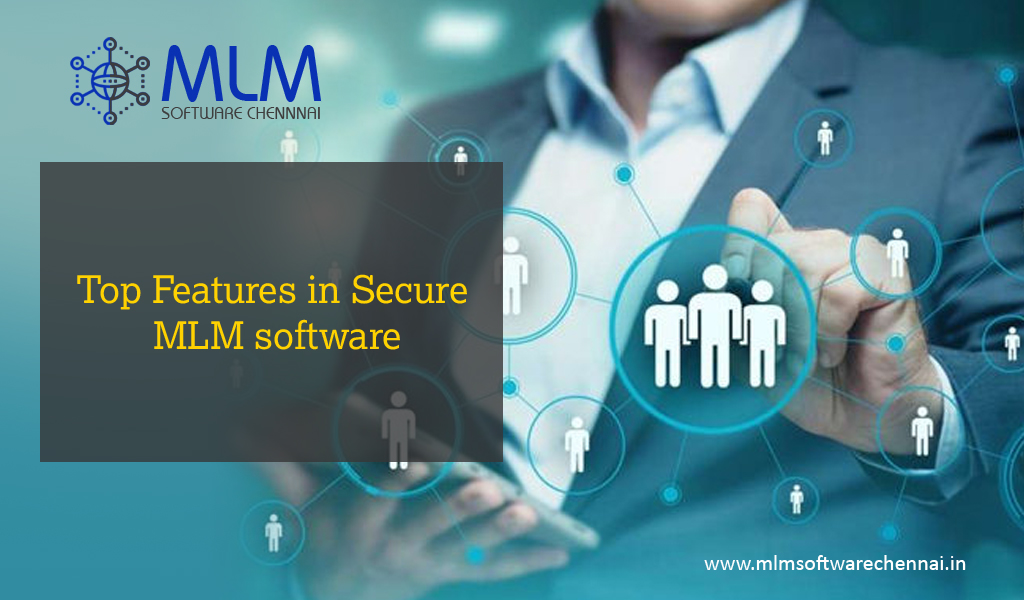 Here we suggest you most wanted features in Secure MLM software that you can see and choose as per your requirement:
Automatic payment gateway:
payment gateway is an important feature of the software. This mechanism helps their user to transfer funds between other users in the MLM industry. It is an in-built having all security measure so that users can do their transactions without any worry. MLM Developers design advanced secured payment gateway having users details, transaction details on the email and OTP feature for further security. This gateway allows Bitcoin and Ethereum transaction at lower fees.

Mass payment:
in MLM business you always need to pay their fees or commission to a large group of people for that a secure and detachable mass payout system is necessary on the time payment and tracking all the records of the transaction. Our mass payout system is performing securely due to operating by different servers at world wide.

Customized:
As we know the same MLM software is not a good software for every business. According to the business needs users are demanding customized software. You can customize it at any type of compensation plan or a combination of two or more plans. MLM Developers design your software after getting your business requirements and offer you the best-customized plan that will be a good source for your success.

E-commerce Integration:
nowadays most of the people want to shop from online stores. In network marketing, the distributor and executive can merchandise their products and services through the online store with more accessibility of people. MLM Developers design the e-commerce platform and their mobile apps so that it will be easy for everyone to reach the product at any time.

E-pin:
E-pin is a tool as a security code used and generated by the software for Handel safely internet deals. You can safely collect payment from their members and sell their products. MLM Developers add e-pin features for your help in registered new members, effectively monitoring of every transaction and security of all the records.

Replicating website:
Replicating website feature is in demand of modern MLM company. This mechanism helps their distributor when they join an MLM company then they have their own personalized replicating website with a stated URL. MLM Developers are designed SEO friendly URL for each replicating website and increasing the chances of promoting your products.

E-wallet:
E-wallet is like a payment wallet where you can buy, store and sale of your cryptocurrencies. MLM Developers knew that the value of the feature and for this increased the security measure.

Multi-users role management:
this feature helps you in setting the authority level to different levels like admin, members, customers, etc. MLM developers design this software by having horizontal and vertical scalability due to this software platform not only supports multiple but also cloud-based architecture.

Upgraded software platform:
Now a day's a demand for the success of a business is not only limited with the upgraded software features but having updated platform on which the software working. MLM developers understand the need and updated and renew it as per your business requirements such as design multi-technology, upgraded dependent plugins with bug fixes and performance improvement, compensation calculation, updated security modules, improved remote code execution for protection and performance parameters, etc.

KYC documents confirmation:
Know your customers is processing where the company is enabled to know and verify their members and customers. MLM developers understand the importance of privacy of these documents and using reliable, independent source data and information security for keeping better privacy policy.

Multiple currencies and multilingual:
The payment gateway systems accept and support to different currencies and one or more payment mode like a credit card, PayPal, debit card, etc. And also support two or more languages so that more people can contact you easily at the global level. MLM Developers knew that without these features it is not possible to run your software successfully so these features are no more an add on but become a part of the platform.

CMS website design:
Content management system a basic need of every business. It not only a way to describe your business and their policies but also keep you updated and generate good business for you. MLM developers updated and generate relevant and good content that will be proved a promotion technique for your business.

Backup system:
All the data is secured in the Ram memory whenever any fault happened then you can recover your data securely. MLM Developers design the business intelligence tools that help to keep secure your backup history.