Smart Contract Based MLM Software
Smart Contract Based MLM Software is a 100% Decentralized Multi-Level Marketing business Strategy based on the Blockchain-powered Smart Contracts built on various Blockchain network business platforms like TRON, Ethereum, EOS, etc… Ethereum Smart Contract-Based MLM business is a topmost familiar and widely dependent MLM business and also Tron Smart Contract based MLM business is getting more attention.
Smart Contract based MLM is a fully Decentralized MLM Business Platform built using Blockchain Smart Contracts. For example, The MLM business platform is joined with the Blockchain-powered Smart Contract protocols. The complete Smart Contract-Based MLM Software on TRON, Ethereum, and Bitcoin business working model is based on Smart Contracts built on the Blockchain network and its completely decentralized; autonomous & transparent; highly-secure.
We are an experienced Cryptocurrency MLM Software Development Company providing blockchain-based White label Cryptocurrency MLM software development services to our valuable customers. Our Blockchain-based MLM Software Development Solutions help you build an MLM business platform with Dapp smart contract.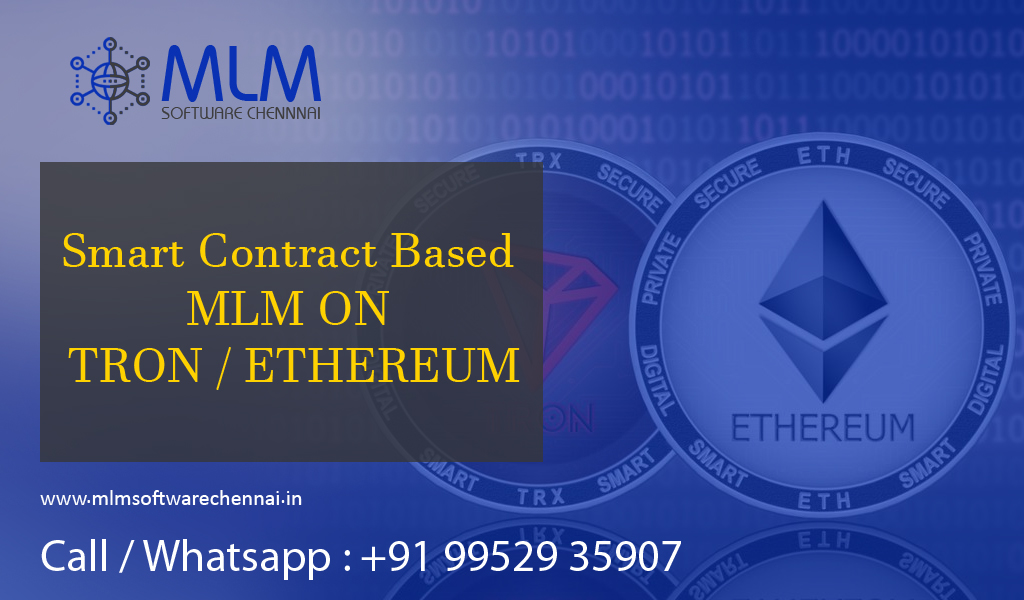 TRON Smart Contract-Based MLM Software
Tron Smart Contrat Based MLM Software is a 100% decentralized MLM business platform based on the Tron Blockchain network, Self-executing Tron Smart Contracts. TRON Smart Contract MLM is getting more popular and attention because of it's speedy transactions & fewer gas fees for transactions on the Tron Blockchain network.
TRON MLM Software is a set of algorithms that maintains a full set of functions like user registration process, matrix table execution process, payment process, rewards & gifts, and more.
TRON smart contract MLM platform is entirely decentralized and impossible to attack. Such a Tron Smart Contract MLM website generates trust among users as they know things will run in a pre-determined business manner. TRON MLM software removes the need for middlemen & almost all transactions are executed by TRON instantly through its protocols. No user or even the creator of the smart contract can modify any changes to this process.
Ethereum Smart Contract-Based MLM Software
Ethereum Smart Contract Based MLM Software is a 100% decentralized Multi-Level Marketing Business Strategy based on Ethereum Blockchain powered Smart Contracts. Ethereum Smart Contracts MLM Software is the widely dependent Smart Contract MLM business platform because of its large customer base on the Ethereum network and the highest secured programming quality provided by the Ethereum Blockchain network.
Completely Decentralized

Autonomous and Transparent

Highly-secure
With MLM software chennai Ethereum Smart Contract MLM Software, You can Kick-start your Ethereum Smart Contract MLM business platform within a week.
We offer Ethereum MLM software backed by a business plan as per your requirements. if you want Ethereum MLM script or Custom Ethereum based MLM software built from the scratch, we successfully serve your requirements with our exclusive mission-driven secured services.
Ethereum Smart Contract MLM Script
Smart Contract MLM Script is a ready to launch Smart Contract MLM website script that works based on the principles of Blockchain-powered Smart Contract. It is completely secure, decentralized, and brings a new dimension to an MLM business.
Ethereum Smart Contract MLM Script is a White-Label MLM script based on Ethereum Blockchain powered Smart Contracts, where the smart contracts are defined on the Ethereum Blockchain platform. Ethereum Smart Contract Script to Start Ethereum Smart Contract based MLM websites like Million Money, Forsage, XOXO Network, DOUBLWAY, EthereumsCash, Etrix, etc…