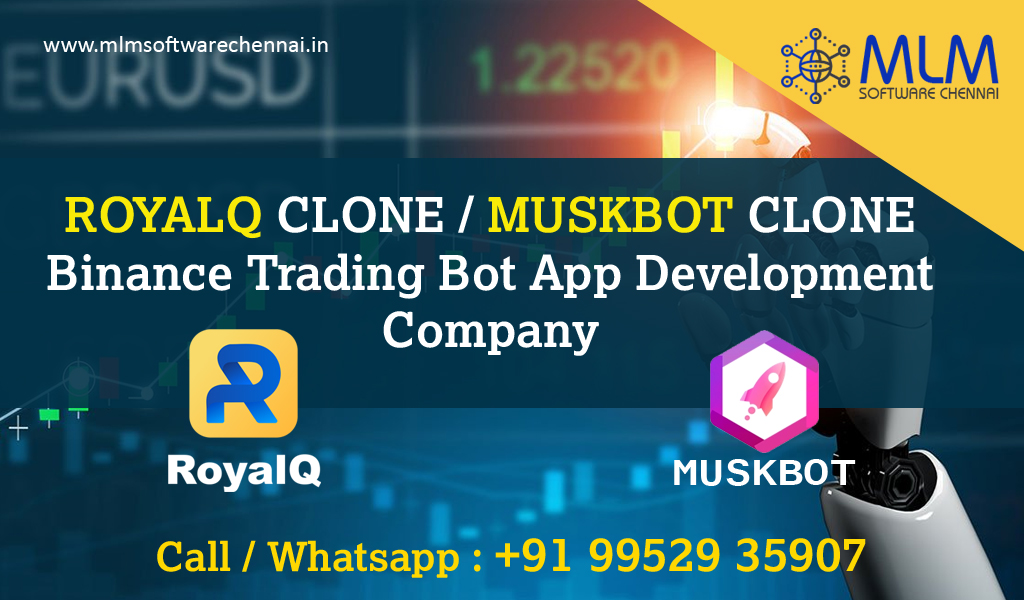 We, MLM Software Chennai have 100+ experts who are expertized in developing trading bots. We first, collect the requirements from customers and then proceed to the development process.
Our crypto trading bots development involves the development of fully automated bots or semi-automated bots with more enhanced features and security. We aim to provide fast and top-notch crypto trading bot development services.
Cryptocurrency Trading Bot Development Services
MLM Software Chennai – A leading Cryptocurrency Trading Bot Development Company that offers popular and customized Crypto Trading Bots to facilitate faster and secure crypto exchange. With our Crypto Trading Bot, you can own a risk-free exchange platform.
Crypto Trading Bot
Crypto trading bots are enduring to renovate the experience and functionality for every crypto player entering the market frequently. Here the scope of the most famous crypto trading bots and Its importance,
The cryptocurrency trading bots market is expanding swiftly ever since the dynamic boom of cryptocurrencies. Trading bots have distinguished characteristics, but their ultimate goal is to make crypto trading a less hassle experience. They are preferred on a larger scale by crypto day traders and beginners; some bots are designed specifically for pro traders. Crypto bots come in various forms, and each has its own set of advantages.
Crypto trading bots are computer software or mobile applications that trade on behalf of their owners/traders. They operate on predetermined conditions such as monitoring the market activities, sending trade signals, placing buy & sell orders, and working non-stop. The bots come with predefined trading strategies, or traders can customize their own strategy according to their preferences.
What is Royal Q Trading BOT?
Royal Q trading BOT is a computer program based on a set of cryptocurrency trading signals that helps determine whether to buy or sell a crypto pair at a given point in time.
It was developed in China and owned by a Chinese company. The Royal Q robot is designed to remove the psychological element of trading, which can be detrimental in investment or trading cryptocurrencies.
Robots like Royal Q are designed to automate crypto trading on your behalf.
You on the other hand need to pay attention to market statistics in trading and then pick which cryptocurrency to trade and at what time.
These bots help automate the analysis and interpretation of market stats.
They can gather market data, interpret it, calculate the potential market risk, and execute buying or selling crypto assets on your behalf.
Just think of it as hiring a cryptocurrency trading expert to do your crypto trading while you can sit back and watch the profit grow.
The Royal Q Crypto trading bots can often save you a lot of time and are more cost-effective than hiring human experts.
The truth is Cryptocurrencies are known for being extremely volatile, and the majority of the time prices fluctuate drastically even in the space of minutes.
So traders in many cases, are unable to react quickly enough to changes in the market price to achieve their trading goal.
This is where crypto robot-like Royal Q (Royal Quantitative) gets into the picture. They are nothing but automated tools that conduct trades and execute transactions on behalf of the users.
How Does Royal Q Trading Bot Works?
In other to use the Royal Q trading bot users needs to integrate the app with a third-party exchange or trading platform.
Currently, Royal Q only integrates with the following exchange platforms:
• Binance
• Huobi
So to get started, you'll have to Register an account with Royal Q and download the app on Google play store for Android users and Apple store for IOS device users.
If you don't already have an account with Binance you can also create one here…
But if you do, just log in to your Binance account to connect your Royal Q app with your Binance API keys to start trading with the APP.
However, to start using the Royal Q app, it cost an activation fee of 120usdt (TRC-20). $100 for a one-year subscription and the remaining $20 for gas fuel.
The gas fuel is a tiny fee the BOT charges whenever it picks trades (Buy/Sell) for users.
The actual trading capital is going to be in your Binance or Huobi account. So there's limited access to your funds.
In fact, you have total control over your money since they are all inside your Binance account. The Royal Q app only uses capital in your USDT wallet and the traded profit or loss drops in the pair wallet.
Well-known Cryptocurrency Trading Bot
Cryptohopper
It is a crypto trading platform which primarily focus on automated bot and copy trading. The users can trade either based on their own personal indicators or copy other trader's strategy.
CryptoTrader
It is a cloud-based trading platform which provides automated trading bots on the cloud and provides instant notifications. Also, it has a strategy marketplace where the users can buy trading strategies.
3Commas
It is one of the most well-known crypto bot which features bot trading and portfolio management. SmartTrade terminal is the feature which allows users to execute orders, trade, set bot trading and adjust profit/loss positions.
HaasOnline
This trading bot lets the users to automate their trading strategy at all their exchange account from a single dashboard. It gives a complete control over each bot, hence configuring trading indicators into each bot.
CryptoBot
CryptoBot usually trades through API keys and GunBot is the lifetime subscription that allows the users to construct and execute the automated trading strategies. Traders has to just install the software on their computer.
ProfitTrailer
It is a trading bot and terminal software that allows the users to create their own trading bot based on the indicators or signals. Besides, it also lets user to run concurrent trading strategies in single exchange.