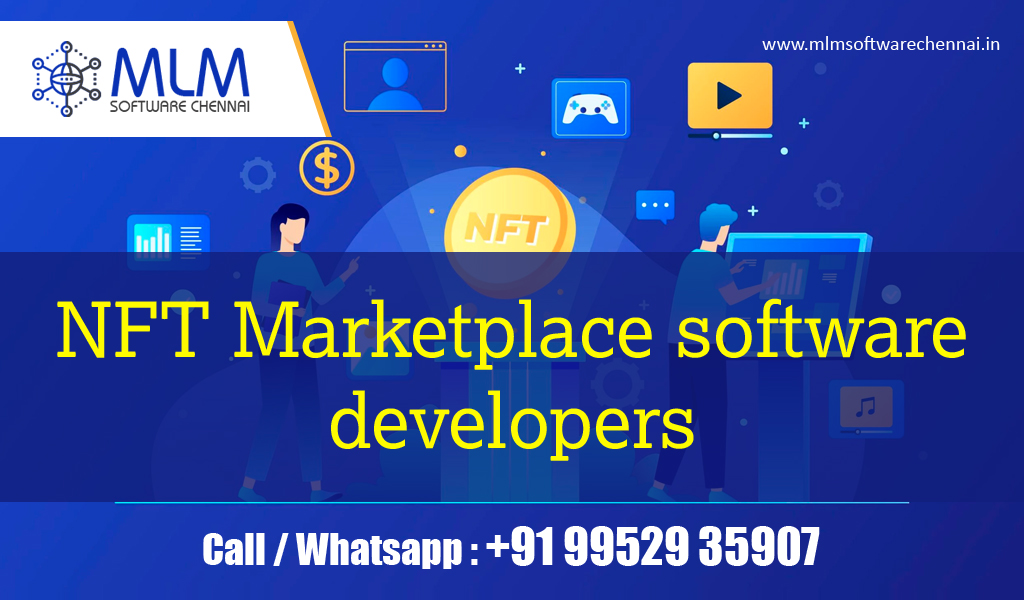 NFT Marketplace Software is an optimal Software Solution, provides sole proprietorship to start an NFT Marketplace platform on any domains like art, music, gaming, and real estate, etc, where users can buy, sell and list NFTs hurdle lessly. With keen concern to provide rich user experience, We have equipped our software package with standard security and storage features including IPFS and Filecoin. It is primarily designed as the developer friendly software promotes instant market launch.
MLM Software Chennai's NFT Marketplace Software comes as a customizable package so the business person can pick up things from Blockchain Technology used to additional APIs.
We help you launch your own NFT marketplace and attract the growing community of NFT users. NFT marketplaces built by us are feature-rich, decentralized, and facilitate tokenization of all kinds of assets.
Who We Are ?
Being the prominent company in the Crypto Industry, we provide optimal NFT solutions for various industries. With our client centric approach, we always strive for the best to meet the clients requirements. We also Provides NFT Marketplace Clone Scripts which works exactly as the popular NFT Marketplaces.
Our NFT Marketplace Development Services
NFT Marketplace Design and Development
With in-depth knowledge of ERC-721 and ERC-1155 standards, smart contracts and IPFS protocols, our team designs and builds a user-centric NFT marketplace platform where users can create and trade NFTs.
NFT Smart Contract Development and Audit
We offer NFT smart contract development and audit services to ensure the error-free functioning of the smart contracts, ensuring seamless automation in NFT transactions.
NFT Marketplace Support and Maintenance
We continuously monitor, maintain and offer support for managing third-party upgrades, new OS releases and ensure nodes are always up and running.
NFT Development
Our NFT marketplace development company provides a token creation feature as a service to your NFT marketplace. It allows users on the platform to mint tokens for their assets.
NFT Use Cases
Crypto Collectibles
Unique digital assets such as rare baseball cards or a rare whisky bought and sold on the blockchain are crypto collectibles. NFTs verify and record the ownership of crypto collectibles.
Gaming
NFTs help gamers safely transfer in-game assets like a rare skin or avatar and provide proof of authenticity.
Software License Management
NFTs help in managing software licenses. Each license is represented by an NFT that is signed and authenticated by its owner.
Asset Lifecycle Management
By converting an asset into NFT, trading of assets and transferring ownership of assets/tokens become easy and quick.
Trading Marketplace
NFT marketplaces offer a wide range of NFTs, including digital art, domain names, virtual lands and other collectibles to buy, sell and explore exclusive assets.
Music
NFTs enable musicians to tokenize their creations and list them in the market. It not only attracts music lovers on the NFT platform but also eliminates piracy in music.
Components Of NFT Marketplace Software
Blockchain Technology:  Build on any kinds of Blockchain like Ethereum, Polkadot, Cardano, Solana, etc
NFT Wallet Integration: NFT Wallet Integration to store NFTs
Admin Panel Integration: Admin Panel Integration to keep track about website details
NFT Storage: NFT Storage Integration with IPFS and Filecoin